After all you've planned the ceremony and enjoyed the hurly burly of the big day, a honeymoon is a time for relaxation, fun and romance. And the paradise for honeymoon is Kullu Manali.
Tour
:
Manali
Location
:
Himachal Pradesh
Best Time to Visit :
May to October
The Kullu valley has an ancient town in its lap called Manali. Surrounded by towering peaks at an arm length, Manali's major asset is its proximity to the snowline. It is a flourishing orchard industry, a popular honeymoon destination and trailhead for numerous treks as well as a great countryside ideal for adventure sport lovers...
Location:
Situated at an altitude of 2050 meters above sea level, the town of Manali is famous for the beauteous landscape that it treats its visitors with. Apart from the scenic beauty of the valleys and the orchards there are various tourist spots that attracts the travelers to this place. Some of the religious spots of Manali are very popular among the tourists here.
Best Time to Visit:
Being located in the lap of the Himalayas the climate of Manali is generally cold. The best time to visit Manali is between the months of May and October. The winters are exceptionally attractive and one is suggested to visit the place during this time to get an enthralling view of the snow capped Himalayas. During summers you can opt for cheap travel packages for Manali made available by various tour operators.
Most popular way to reach Manali is by road or by air. The nearest airport is at a distance of 52 KM Bhuntar. Manali is 570 KM from Delhi and you can reach Manali through National Highway number 21.
The Nearest Rail head is Chandigarh 245 km away. Chandigarh is well connected by rest of India. More...
For further details you can contact Jagson airlines on 011-25674898, 65515132.
Hadimba Temple::
This temple, with a finely wrought four - tiered pagoda roof, dating back to 1553, is built around a natural cave, which enshrines the footprints of the goddess Hadimba. Hadimba was the wife of Bhima, one of the five great Pandava brothers of the Mahabharata, and later became the patron goddess of the Kulu royal family.
Monasteries
: Manali also houses three Tibetan monasteries, that have been built recently.
Arjun Gufa
: Five kms from Manali near the village of Prini is the Arjun Gufa, Arjuna's cave. Arjuna, one of the Pandava brothers, is believed to have performed his penance here.
Vashisht
: Three kms from Manali is the village of Vashisht, which is renowned for its hot sulphur springs. The village is also the site of some old temples, dedicated to the great sage Vashisht, and to Lord Rama. The Himachal Tourism sulphur baths are just beyond these shrines.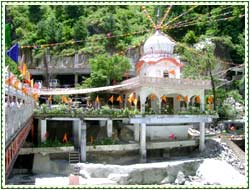 FOOD and ACCOMMODATION: